Silicon Valley's First Social Media-Based Oral History

by Gaye I. Clemson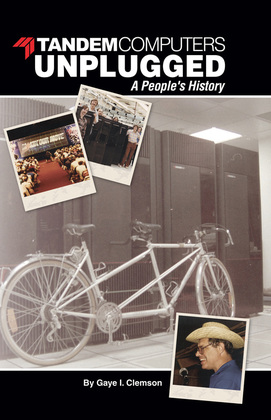 In 1974, when Jimmy Treybig started Tandem at the age of 33, most pundits thought that building a new computer company was not a very good idea. But Jimmy persisted because he knew that the business problem he was trying to solve was one that was causing real pain at that time for businesses such as banks, telecommunications providers and airlines. But it wasn't just a new computer systems architecture that he cared about, it was also about creating a new way to manage people and lead a company. The values that he set out were groundbreaking —for example that all people were good and the same whether they were workers or management, that every single person in the company needed to understand the essence of the business and that every employee needed to benefit from the company's success. Management's job, Jimmy felt, was to create an environment where all of this could happen.

Like all things in life, some aspects of this management approach worked well and others didn't work quite so well. But as is so clear in listening to the voices of the people in this narrative, the impact on those who spent time at Tandem was and is significant. All of us are proud to have been a part of that legacy. We are proud of the fact that we helped lay the foundation for what has become Silicon Valley, proud of the individual contributions that we made, proud of the fun and success that we had as a group, proud of Beer Busts, TOPS, sabbaticals, TTN, email and stock options for everyone. We are proud of the trust that we all had in each other that led to an openness of thought, creativity, innovation and customer commitment that is rare today. We had a spirit and a feeling that lives on and I hope comes through in these pages.

This book is written in a way that reflects three different narratives. The first narrative is the history of the company that has been extracted from a mountain of press clippings and articles in various Tandem internal publications. A second narrative is the author's voyage of discovery of Silicon Valley, a new management approach and more importantly of the world. Thirdly are the voices of fellow employees, extracted from social media postings over the last decade and interwoven in different ways to tie it all together.

---
Globalinkage Publications
Capitola, CA 95010
clemsong@tandemcomputersunplugged.com
831-475-2670